Tomorrow Never Dies
Posted On March 16, 2018
Tomorrow Never Dies is one of the few films to feature a female biker character. It is part of the 007 franchise and follows the secret agent James Bond as he tries to take down a villainous media tycoon. Along the way he teams up with Colonel Wai Lin, a female spy.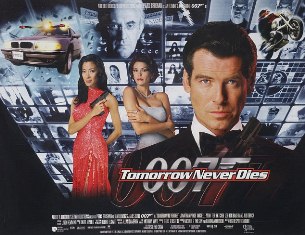 Wai Lin is shown riding a BMW R1200C bike. The motorcycle has proven to be BMW's most popular models. In one memorable scene both Wai Lin and 007 have to ride the bike while being pursued by a helicopter. The sequence remains one of the most popular of the entire franchise. It ends in the destruction of the bike.
The model has also been seen in the Mike Myers comedy Austin Powers in Goldmember. It can be spotted during the opening scene where it is ridden by Tom Cruise and Gwyneth Paltrow. This is during a parody of the action packed helicopter chase in Tomorrow Never Dies. The BMW R1200C is now in a museum exhibition in the UK. Bond in Motion: 50 Vehicles displays this bike and others seen throughout the history of the film series.